Conclusions from yesterday: 1. Boston is way bigger than I had realized. 2. The sheer volume of people in really big cities is astonishing. 3. Greek food is incredibly tasty. 4. The Museum of Fine Arts is a mind-bogglingly beautiful place.
So, Papa took me, Mary, and five friends down to the Museum of Fine Arts in Boston yesterday. We spent the day walking - around the museum, around Boston sidewalks, through the Prudential Building, back and forth to various chapels, etc. All very fun. But I won't describe anything but the museum in further detail here, because this is supposed to be a blog with a theme, rather than a travelogue.
My favorite paintings were by far the Impressionist ones, although I only got a very brief look at most of those. We rushed through that exhibit on our way to lunch, intending to return later. What we didn't know was that certain exhibits occasionally close early, and that this was one of them on that day. A small disappointment. But I did get a chance to see a few real Monets. Monet is my most favorite artist, and some of his paintings were in other rooms. I also managed to glimpse one of my favorites of his work: one of the Cathedral paintings. (This was part of a series of paintings he made of the same building, from the same perspective, with variations only in lighting. A really magnificent set, I think.)
I'm too lazy to write any deep thoughts on the nature of art right now, so I'll just post some of my favorite pictures and let them speak for themslves.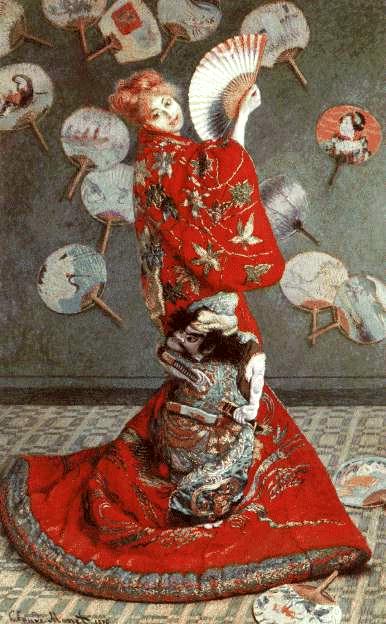 Monet,
La Japonaise
Frank Benson,
Calm Morning
Thomas Sully,
The Torn Hat
Oh, and I have to mention the book shop we stopped by. I think it was the oldest used book store in Boston... or at least it had some distinction of that sort. Anyway, a small outdoor sale was going on outside the shop, and I came across a set of 6 hardcover books by Dickens - his less well known works, like
Martin Chuzzlewit
, and
The Old Curiosity Shop
, and the
Pickwick Papers
- as well as a biography of St. Joan of Arc: all in very good condition and in the $1-a-piece section. Papa was then kind enough to lug the bag containing all seven around Boston for the next few miles. I didn't think of the carrying part when I bought them, I admit....